iPod nano (2nd Generation)
Introduced: September 2006
Terminated: n/a
Description
The second generation of the iPod nano brought back the colors seen in the discontinued iPod mini, but brighter. The case of the nano had been modified slightly with more rounded edges. There were three configurations available. The 2Gb configuration was only available in silver. The 4Gb configuration was available in silver, blue, green or pink and the 8Gb configuration was available only in black.
History
Although the case and colors gave the iPod nano (2nd Generation) a new look, beyond the increase in the size of the high end configuration, there was little change from the previous model.
Photos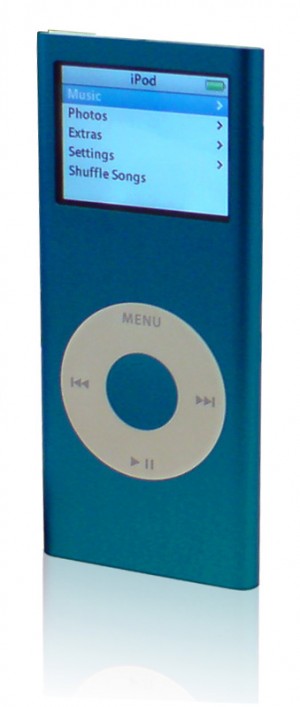 Specifications
Capacity: 2.0, 4.0, or 8.0 GB flash drive
Input/Output: Dock connector, 3.5-mm headphone jack
Connectivity: USB through Dock connector
Controls: play/pause, next title, previous title, menu, hold, click wheel
Display: 1.5-inch (diagonal) color LCD with LED backlight
Colors: Silver (2 GB), Silver, Green, Blue, Pink (4 GB), Black (8 GB)
Accessories: Earphones, USB cable, dock adapter
Weight and Dimensions (US): 1.41 ounces, 3.5" H x 1.6" W x 0.26" D
Weight and Dimensions (Metric): 40 g, 88.9 mm H x 40.6 mm W x 6.6 mm D
Current Software: 1.1.3
Audio Formats: AAC, MP3, MP3 VBR, Audible, Apple Lossless, AIFF, WAV
Photo Formats: JPEG, BMP, GIF, TIFF, PSD (Mac only) and PNG
Video Formats: None
iPod Games: None
Battery: Built-in rechargeable lithium ion battery
Charge Time: About 3 hours (1.5-hour fast charge to 80% capacity)
Power: Charging via FireWire, USB 2 (high power), or power adapter
Playtime: Up to 24 hours of music; up to 5 hours of slideshows with music
Operating Temperature: 32 to 95 deg. F (0 to 35 deg. C)
Storage Temperature: -4 to 113 deg. F (-20 to 45 deg. C)
Relative Humidity: 5% to 95% noncondensing
Altitude (US): 10,000 feet
Altitude (Metric): 3,000 m
Timeline
The iPod nano (2nd Generation) was introduced in September 2006.
Videos