iPod mini (Second Generation)
Introduced: February 2005
Terminated: September 2005
Description
The iPod mini (Second Generation) shipped in silver, blue, pink and green anodized aluminum. The gold model was removed due to lack of popularity. It was available with 4 or 6Gb of hard drive space. It supported FireWire 400 and USB 2.0 through the dock connector. The screen was 1.67" and backlight. The iPod mini shipped with earbud headphones, a belt clip, and a Dock Connector to USB 2.0 cable.
History
The Second Generation of iPod mini featured richer case colors and a new larger model. There was also a dramatic increase in the battery life. Now it could last for up to 18 playing hours.
Photos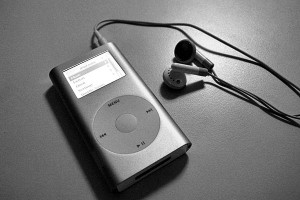 Specifications
Capacity: 4.0 or 6.0 GB hard drive
Input/Output: Dock and Remote connectors, 3.5-mm headphone jack
Connectivity: USB 2.0 and FireWire 400 through dock connector
Controls: play/pause, next title, previous title, menu, hold, click wheel
Display: 1.67-inch (diagonal) LCD with white LED backlight
Colors: Silver, Blue, Pink, Green
Accessories: Earbud headphones, Dock Connector to USB 2.0 cable, iPod mini Belt Clip
Weight and Dimensions (US): 3.6 ounces, 3.6" H x 2.0" W x 0.5" D
Weight and Dimensions (Metric): 104 g, 91 mm H x 50.8 mm W x 12.7 mm D
Current Software: 1.4.1
Audio Formats: AAC, MP3, MP3 VBR, Audible, Apple Lossless, AIFF, WAV
Photo Formats: None
Video Formats: None
iPod Games: None
Battery: Built-in rechargeable lithium ion battery
Charge Time: About 4 hours (2-hour fast charge to 80% capacity)
Power: Charging via FireWire, USB 2 (high power), or power adapter
Playtime: 18 hours
Operating Temperature: 32 to 113 deg. F (0 to 45 deg. C)
Storage Temperature: -4 to 158 deg. F (-20 to 70 deg. C)
Relative Humidity: 5% to 95% noncondensing
Altitude (US): 10,000 feet
Altitude (Metric): 3,000 m
Timeline
The iPod Mini (Second Generation) was introduced in February 2005 and was terminated when the iPod nano was released in September 2005.
Videos