iPod (Dock Connector)
Introduced: April 2003
Terminated: July 2004
Description
The iPod (Dock Connector) replaced the FireWire port seen in previous models and replaced it with a dock connector that could be used with either a PC or a Mac using FireWire or USB 2.0. The buttons that had been located around the scroll wheel were moved up, now positioned just under the screen. The iPod (Dock Connector was available with a 10, 15, 20, 30 or 40Gb hard drive.
History
The new iPod (Dock Connector) offered a new look and feel to the iPod line. It was noticeably thinner and lighter than previous models and it was rounder and smoother. Additionally, the software running the iPod got several new enhancements not available in previous models.
Photos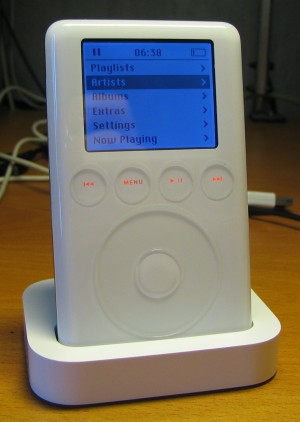 Specifications
Capacity: 10, 15, 20, 30 or 40 GB hard drive
Input/Output: Dock and Remote connectors, 3.5-mm headphone jack
Connectivity: FireWire 400 and USB 2.0 through dock connector
Controls: play/pause, next title, previous title, menu, hold, touch wheel
Display: 2-inch (diagonal) LCD with white LED backlight
Colors: White
Accessories: Dock and carrying case (except M9460LL/A and M8976LL/A), remote, earbud headphones, AC adapter, dock connector to FireWire cable and 4-pin-to-6-pin FireWire adapter
Weight and Dimensions (US): 5.6 ounces, 4.1" H x 2.4" W x 0.62" D (10,15,20 GB) or 6.2 ounces, 4.1" H x 2.4" W x 0.73" D (30,40 GB)
Weight and Dimensions (Metric): 158 g, 104 mm H x 61 mm W x 15.7 mm D (10,15,20 GB) or 176 g, 104 mm H x 61 mm W x 18.5 mm D (30,40 GB)
Current Software: 2.3
Audio Formats: AAC, MP3, MP3 VBR, Audible, Apple Lossless, AIFF, WAV
Photo Formats: None
Video Formats: None
iPod Games: None
Battery: Built-in rechargeable lithium ion battery (630 mAh)
Charge Time: 3 hours (1-hour fast charge to 80% capacity)
Power: Charging via FireWire or power adapter: 100V to 240V at 0.4 A max
Playtime: 8 hours
Operating Temperature: 32 to 113 deg. F (0 to 45 deg. C)
Storage Temperature: -4 to 158 deg. F (-20 to 70 deg. C)
Relative Humidity: 5% to 95% noncondensing
Altitude (US): 10,000 feet
Altitude (Metric): 3,000 m
Timeline
Introduced in April 2003, the iPod (Dock Connector) was discontinued in July 2004 to make way for new models.
Videos