ImageWriter
Introduced: June 1984
Terminated: December 1985
Description
The ImageWriter was a dot matrix printer released by Apple. It could produce both text and images with a resolution of 144 DPI and a speed of about one page a minute. The printer was black and white only, however, a single color cartridge could be used in place of a black cartridge.
History
The speed of the ImageWriter was good and the low per page cost made it attractive as a home printer. Compatible with both the Apple II line and the Macintosh line, the ImageWriter series was replaced by other, better printers. However, it remained popular for use in printing banners and forms for a number of years.
Photos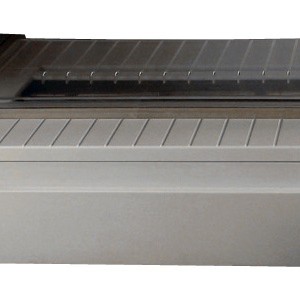 Specifications
Ports: Serial
Type: Dot matrix
Color: B&W only (can print using ImageWriter II color ribbon, regardless of the color.)
DPI: 360
Speed: 1 Page per minute
Language: QuickDraw
Power: 180 Watt
Weight: 16 lbs
Dimensions: (H x W x D) 4.8 x 16.2 x 11.8 in
Timeline
Introduced in June of 1984 the ImageWriter was discontinued in December of 1985.
Videos