iMac (Summer 2001)
Introduced: July 2001
Terminated: March 2003
Description
The iMac (Summer 2001) was available in three configurations and saw a return to more conservatively colored cases. The low end had a 500Mhz processor, a 20Gb hard drive and 128Mb of RAM. The mid-range had a 600Mhz processor, a 40Gb hard drive and 256Mb of RAM. The high-end model had a 700Mhz processor, a 60Gb hard drive and 256Mb of RAM. The high-end and mid-range were available in Graphite and Snow. The low-end model was available in Indigo and Snow.
History
Following the color-explosion seen in the previous models Blue Dalmatian and Flower Power cases, the iMac (Summer 2001) brought a tamer color scheme back to the iMac line. Beyond that, the new line continued pattern of upgrades to the iMac line. A lower end model was added to the line later and was available only in Indigo.
Photos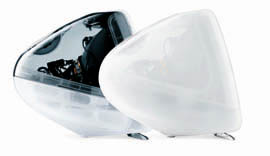 Specifications
Processor: PowerPC 750cxe v2.4 or 745/755 v3.1 (G3)
Number of Cores: 1
Processor Speed: 500, 600, 700 MHz
Benchmarks: 500 MHz: 229, 600 MHz: 291
Cache: 64 KB L1, 256k backside (1:1) L2
System Bus: 100 MHz
Hard Drive: 20, 40, or 60 GB
Media: Slot-loading 24x CD-ROM or 8x4x32 CD-RW
Peripherals: Apple Pro Keyboard, Apple Pro Mouse
Colors: Indigo, Graphite, and Snow
Weight and Dimensions (US): 34.7 lbs., 15.0" H x 15.0" W x 17.1" D
Weight and Dimensions (Metric): 15.7 kg, 38.1 cm H x 38.1 cm W x 43.4 cm D
Original Mac OS: Mac OS 9.1 (Mac OS ROM 7.5.1) and Mac OS X 10.0.4 (4P13)
Later Mac OS: Mac OS 9.2 and Mac OS X 10.1, 10.1.2, 10.1.3, or 10.2
Maximum Mac OS: Latest release of Mac OS X
Hardware Test: AHT (iMac/eMac) 1.2.1, 1.2.2
Firmware: Open Firmware
Firmware Update: iMac Firmware Update 4.1.9
Firmware Update URL: http://docs.info.apple.com/article.html?artnum=75130
Logicboard RAM: None
Maximum RAM: 1.0 GB
Type of RAM Slots: 2 - PC100 3.3V 168-pin SDRAM
Minimum RAM Speed: 10 ns
Interleaving Support: No
Graphics Card: ATI Rage 128 Ultra
ATI Card Model: ATY,Rage128Pro2
Graphics Connection: 2x AGP
Graphics Memory: 16 MB
Built-in Display: 15-inch shadow-mask CRT (13.8-inch viewable)
Resolutions: 640x480 @ 117Hz, 800x600 @ 95Hz, 1024x768 @ 75Hz
Display Modes: Video mirroring only
Display Connection: 1 - VGA
Video Camera: None
Expansion Slots: None
Hard Drive Bus: Ultra ATA (Shared with optical drive)
Large Drive Support: No (Maximum of 128 GB per drive)
Optical Drive Bus: Ultra ATA (Shared with hard disk drive)
Backup Battery: 3.6 V 850 mAh Lithium (922-4028)
Max Watts: 150 W
Line Voltage: 100-260V AC
AirPort: Optional AirPort card (802.11b) (adapter required)
Bluetooth: None
Ethernet: 10/100BASE-T (RJ-45)
Modem: 56k
USB: 2 - 12 MBit/s
FireWire: 2 - 400 MBit/s (8W total power)
Audio In: 1 - 3.5-mm analog input jack, Built-in microphone (16-bit 44.1 kHz sample rate)
Audio Out: 3 - 3.5-mm analog output jacks, Built-in speakers (16-bit 44.1 kHz sample rate)
Timeline
The iMac (Summer 2001) was introduced in July 2001. When the G4 Flat Panel iMac was announced in January 2002, the entire line dropped in price. It was discontinued in March 2003.
Videos