iMac (Mid 2006 17")
Introduced: July 2006
Terminated: September 2006
Description
The iMac (Mid 2006 17") was an inexpensive iMac using the Intel GMA950 chipset, which was a less expensive option than the Core Duo processor. It had an 80Gb hard drive and lacked Bluetooth.
History
Released to the Education market to fill the gap left by the discontinuation of the eMac line, the iMac (Mid 2006 17") was similar to the Mac Mini (Early 2006). It was $899.
Photos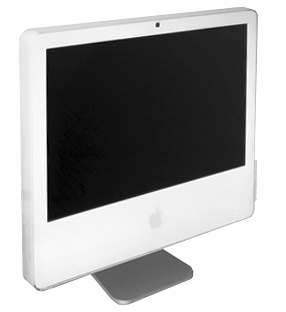 Specifications
Processor: Intel Core Duo (T2400) ("Yonah")
Number of Cores: 2
Processor Speed: 1.83 GHz
Cache: 2 MB shared L2 cache at full processor speed
System Bus: 667 MHz
Hard Drive: 80 GB 7200-rpm
Media: 24x Combo drive (DVD/CD-RW)
Peripherals: Apple Keyboard, Mighty Mouse
Colors: White
Weight and Dimensions (US): 15.5 lbs., 16.9" H x 16.8" W x 6.8" D
Weight and Dimensions (Metric): 7 kg, 43 cm H x 42.6 cm W x 17.3 cm D
Original Mac OS: Mac OS X 10.4.6 (8I2057)
Later Mac OS:—
Maximum Mac OS: Latest release of Mac OS X
Hardware Test: AHT 3A108
Firmware: Intel Extensible Firmware Interface (EFI)
Firmware Update: iMac EFI Firmware Update 1.1
Firmware Update URL: http://www.apple.com/support/downloads/imacefifirmwareupdate11.html
Logicboard RAM: None
Maximum RAM: 2.0 GB
Type of RAM Slots: 2 - 200-pin PC2-5300 (667MHz) DDR2 SO-DIMM
Minimum RAM Speed:—
Interleaving Support: Yes
Graphics Card: Intel Graphics Media Accelerator (GMA) 950
ATI Card Model:—
Graphics Connection:—
Graphics Memory: 64 MB DDR2 (shared with main memory, minimum memory usage is 80 MB)
Built-in Display: 17-inch LCD 250 cd/m 500:1 contrast ratio
Resolutions: 16:10 aspect ratio: 1440 x 900, 1152 x 720, 1024 x 640, 800 x 500 4:3 aspect ratio: 1024 x 768, 800 x 600, 640 x 480
Display Modes: Dual display extended and video mirroring
Display Connection: 1 - Mini-DVI (DVI, VGA, Composite and S-video with adapter)
Video Camera: Built-in iSight
Expansion Slots: None
Hard Drive Bus: 1.5 Gbps Serial ATA (SATA)
Large Drive Support: Yes (128 GB or larger per drive)
Optical Drive Bus: Ultra ATA/100
Backup Battery: 3 V Lithium (922-6476)
Max Watts: 180 W
Line Voltage: 100-240V AC
AirPort: Built-in AirPort Extreme card (802.11b/g)
Bluetooth: None
Ethernet: 10/100/1000BASE-T (RJ-45) (support for jumbo frames)
Modem: Optional Apple USB Modem (MA034Z/A)
USB: 3 - 480 MBit/s
FireWire: 2 - 400 MBit/s (8W total power)
Audio In: 1 - 3.5-mm analog/optical combo jack, Built-in microphone (24-bit 96KHz sample rate)
Audio Out: 1 - 3.5-mm analog/optical combo jack, Built-in speakers
Timeline
The iMac (Mid 2006 17") was introduced in July 2006 and was discontinued in September 2006 when an equivalent machine was included in the regular iMac release.
Videos