iMac G5 20" (Ambient Light Sensor)
Introduced: May 2005
Terminated: October 2005
Description
With a bump in speeds, and a few other new features, the new release of the iMac G5 was available in three configurations. The low-end configuration had a 17" LCD, ran at 1.8Ghz, had a 160Gb hard drive and a Combo drive. The midrange configuration had a 17" LCD, ran at 2.0Ghz, had a 160Gb hard drive and a SuperDrive. The high-end configuration had a 20" LCD, ran at 1.8Ghz, had a 250Gb hard drive and a SuperDrive.
History
The iMac G5 20" (Ambient Light Sensor) was a speed bump on the original release of the iMac G5. In addition to the new Ambient Light Sensor, AirPort Extreme and Bluetooth became standard features across the line. The RAM was also increased for smooth running of Apple's latest Operating System.
Photos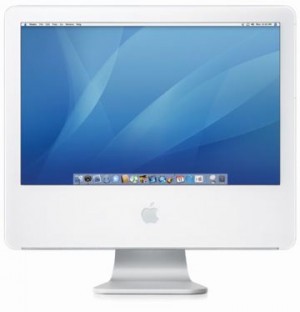 Specifications
Processor: PowerPC 970fx (G5)
Number of Cores: 1
Processor Speed: 2.0 GHz
Benchmarks: 2.0 GHz: 1172
Cache: 64 KB (instruction), 32 KB (data) L1, 512 KB backside (1:1) L2
System Bus: 667 MHz
Hard Drive: 250 or 400 GB 7200-rpm
Media: Slot-loading 2.4x8x4x8x24x8x24x DVD+R DL/DVD±RW/CD-RW SuperDrive
Peripherals: Apple Keyboard, Apple Mouse
Colors: White
Weight and Dimensions (US): 25.2 lbs., 18.6" H x 19.4" W x 7.4" D
Weight and Dimensions (Metric): 11.4 kg, 47.2 cm H x 49.3 cm W x 18.9 cm D
Original Mac OS: Mac OS X 10.4 (8A428)
Later Mac OS:—
Maximum Mac OS: Latest release of Mac OS X
Hardware Test: AHT (iMac) 2.5.1, AHT (iMac G5/eMac) 2.5.3
Firmware: Open Firmware
Firmware Update: None
Logicboard RAM: None
Maximum RAM: 2.0 GB
Type of RAM Slots: 2 - 184-pin PC3200 (400MHz) DDR SDRAM
Minimum RAM Speed:—
Interleaving Support: Yes
Graphics Card: ATI Radeon 9600
ATI Card Model: ATY,RV351
Graphics Connection: 8x AGP
Graphics Memory: 128 MB DDR
Built-in Display: 20-inch LCD 230 cd/m 400:1 contrast ratio
Resolutions: 16:10 aspect ratio: 1680 x 1050, 1344 x 840, 1280 x 800, 1024 x 640, 840 x 524, 800 x 500 4:3 aspect ratio: 1024 x 768, 800 x 600, 640 x 480
Display Modes: Video mirroring only
Display Connection: 1 - Mini-VGA (Composite and S-video with adapter)
Video Camera: None
Expansion Slots: None
Hard Drive Bus: 1.5 Gbps Serial ATA (SATA)
Large Drive Support: Yes (128 GB or larger per drive)
Optical Drive Bus: Ultra ATA/133
Backup Battery:—
Max Watts: 180 W
Line Voltage: 100-240V AC
AirPort: Built-in AirPort Extreme card (802.11b/g)
Bluetooth: Built-in Bluetooth 2.0 + EDR
Ethernet: 10/100/1000BASE-T (RJ-45)
Modem: 56k v92
USB: 3 - 480 MBit/s
FireWire: 2 - 400 MBit/s (8W total power)
Audio In: 1 - 3.5-mm analog input jack, Built-in microphone (24-bit 96KHz sample rate)
Audio Out: 1 - 3.5-mm analog/optical combo jack, Built-in speakers
Timeline
Introduced in May 2005, the iMac G5 20" (Ambient Light Sensor) was discontinued in October 2005 to make way for new models.
Videos