iMac (Bondi Blue)
Introduced: August 1998
Terminated: January 1999
Description
The original iMac was an all-in-one shipped in an entirely new "Bondi Blue" translucent plastic case. It ran the G3 PowerPC 750 processor at 233Mhz and had 4Gb hard drive. It had a tray loading CD-ROM, a USB keyboard and a USB mouse. It had a maximum RAM of 256Mb and an ATI Rage IIc graphics card. The built-in monitor was a 15-inch shadow mask CRT with a 13.8" viewable area. There was one mezzanine expansion slot, analog audio input/output jacks, a built-in microphone and built-in speakers.
History
The iMac represented a new vision for Macintosh computers. It was posited as a computer for the new millennium. The "i" indicated the computer's compatibility with the internet, which was expanding at an exponential rate. The new case was sleek and modern, with the familiar handle that had been a feature on many early Macintoshes.
The iMac was aimed at a low-budget market, with the original costing $1,299. There was considerable attention given to it from the press and from marketing. The unique new design made it easily recognizable, giving Apple new brand awareness. Ease-of-use was much touted by Apple and consumers found that it lived up to that promise, affording the ability to set up and connect to the Internet in two steps.
There were initially detractors who did not approve of Apple's changes to hardware and their changing priorities, the original G3 iMac launched a hugely successful commercial line that is still in production. Tapping into the Internet boom and highlighting their user-friendly interface became lasting hallmarks of the iMac line.
Photos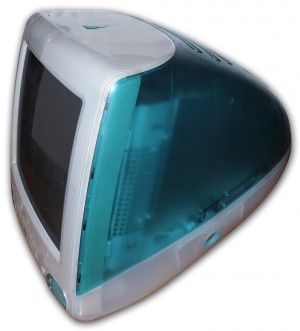 Specifications
Processor: PowerPC 750 (G3)
Number of Cores: 1
Processor Speed: 233 MHz
Cache: 64 KB L1, 512 k backside (1:2) L2
System Bus: 66 MHz
Hard Drive: 4 GB
Media: Tray-loading CD-ROM
Peripherals: Apple USB Keyboard, Apple USB Mouse
Colors: Bondi Blue
Weight and Dimensions (US): 40 lbs., 15.8" H x 15.2" W x 17.6" D
Weight and Dimensions (Metric): 18.1 kg, 40.1 cm H x 38.6 cm W x 44.7 cm D
Original Mac OS: Mac OS 8.1 or 8.5
Later Mac OS:—
Maximum Mac OS: Mac OS X 10.3.9
Hardware Test: Not Supported
Firmware: Open Firmware
Firmware Update: iMac Firmware Update 1.2
Firmware Update URL: http://docs.info.apple.com/article.html?artnum=60384
Logicboard RAM: None
Maximum RAM: 384 MB (Rev. A) 512 MB (Rev. B) 128 MB (Rev. A) 256 MB (Rev. B)
Type of RAM Slots: 2 - PC66 144 pin SO-DIMM
Minimum RAM Speed: 10 ns
Interleaving Support: No
Graphics Card: ATI Rage IIc (Rev. A) or Rage Pro (Rev. B)
ATI Card Model: ATY,GT-C (IIc), ATY,GT-C (Rage Pro)
Graphics Connection:—
Graphics Memory: 2 to 6 MB (Rev. A) 6 MB (Rev. B)
Built-in Display: 15-inch shadow-mask CRT (13.8-inch viewable)
Resolutions: 640x480 @ 117Hz, 800x600 @ 95Hz, 1024x768 @ 75Hz
Display Modes: None
Display Connection: Internal DB-15 for built-in display
Video Camera: None
Expansion Slots: 1 - Mezzanine
Hard Drive Bus: ATA-3 (Shared with optical drive)
Large Drive Support: No (Maximum of 128 GB per drive)
Optical Drive Bus: ATA-3 (Shared with hard disk drive)
Backup Battery: 922-4542
Max Watts: 80 W
Line Voltage: 100-240V AC
AirPort: None
Bluetooth: None
Ethernet: 10/100BASE-T (RJ-45)
Modem: 33.6k or 56k
USB: 2 - 12 MBit/s
FireWire: None
Audio In: 1 - 3.5-mm analog input jack, Built-in microphone (16-bit 44.1 kHz sample rate)
Audio Out: 1 - 3.5-mm analog output jack, 2 - Built-in speakers (16-bit 44.1 kHz sample rate)
Timeline
Introduced in August 1998 the original Bondi Blue iMac was replaced by newer models just a few months later in January 1999.
Videos