iMac (5 Flavors)
Introduced: January 1999
Terminated: October 1999
Description
Building on the success of the Bondi Blue iMac, the iMac was released in five new "flavors" -Blueberry, Strawberry, Lime, Tangerine and Grape. It ran the G3 PowerPC 750 processor at 266Mhz and had 4 or 6Gb hard drive. It had a tray loading CD-ROM, a USB keyboard and a USB mouse. It had a maximum RAM of 512Mb and an ATI Rage Pro graphics card. The built-in monitor was a 15-inch shadow mask CRT with a 13.8" viewable area. There were no expansion slots. It had analog audio input/output jacks, a built-in microphone and built-in speakers.
History
The iMac's original case had built Apple's brand recognition exponentially, and with the five new colors choices there was now a "flavor" for everyone. Beyond the new colors, the iMac was little different from the original. It was faster, but lacked the "mezzanine" slot and the IRDA port, so it was also less expensive, now $1199.
Photos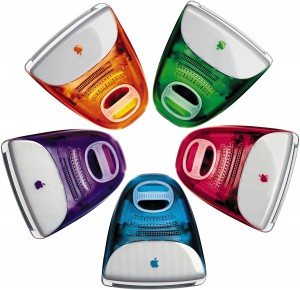 Specifications
Processor: PowerPC 750 (G3)
Number of Cores: 1
Processor Speed: 266 or 333 MHz
Cache: 64 KB L1, 512 k backside (1:2) L2
System Bus: 66 MHz
Hard Drive: 4 or 6 GB
Media: Tray-loading CD-ROM
Peripherals: Apple USB Keyboard, Apple USB Mouse
Colors: Blueberry, Grape, Strawberry, Tangerine, and Lime
Weight and Dimensions (US): 40 lbs., 15.8" H x 15.2" W x 17.6" D
Weight and Dimensions (Metric): 18.1 kg, 40.1 cm H x 38.6 cm W x 44.7 cm D
Original Mac OS: Mac OS 8.5.1 (Mac OS ROM 1.2.1)
Later Mac OS: Mac OS 8.6
Maximum Mac OS: Mac OS X 10.3.9
Hardware Test: Not Supported
Firmware: Open Firmware
Firmware Update: iMac Firmware Update 1.2
Firmware Update URL: http://docs.info.apple.com/article.html?artnum=60384
Logicboard RAM: None
Maximum RAM: 512 MB (Actual) 256 MB (Apple)
Type of RAM Slots: 2 - PC66 144 pin SO-DIMM
Minimum RAM Speed: 10 ns
Interleaving Support: No
Graphics Card: ATI Rage Pro
ATI Card Model: ATY,GT-C
Graphics Connection:—
Graphics Memory: 6 MB
Built-in Display: 15-inch shadow-mask CRT (13.8-inch viewable)
Resolutions: 640x480 @ 117Hz, 800x600 @ 95Hz, 1024x768 @ 75Hz
Display Modes: None
Display Connection: Internal DB-15 for built-in display
Video Camera: None
Expansion Slots: None
Hard Drive Bus: ATA-3 (Shared with optical drive)
Large Drive Support: No (Maximum of 128 GB per drive)
Optical Drive Bus: ATA-3 (Shared with hard disk drive)
Backup Battery: 3.6 V Lithium
Max Watts: 80 W
Line Voltage: 100-240V AC
AirPort: None
Bluetooth: None
Ethernet: 10/100BASE-T (RJ-45)
Modem: 56k
USB: 2 - 12 MBit/s
FireWire: None
Audio In: 1 - 3.5-mm analog input jack, Built-in microphone (16-bit 44.1 kHz sample rate)
Audio Out: 1 - 3.5-mm analog output jack, Built-in speakers (16-bit 44.1 kHz sample rate)
Timeline
The iMac (5 Flavors) was announced in January of 1999. It got a speed bump up to 333Mhz in April 1999. The series was replaced with new models in October of 1999.
Videos