iMac (24" Late 2006)
Introduced: September 2006
Terminated: August 2007
Description
The iMac (Late 2006) release meant an upgrade to the Intel Core2 Duo processors across the line. There were now four configurations available. The low-end model, which had previously been released to the education market only, was 17", ran at 1.83Ghz and had 160Gb of hard drive space. To keep costs down it had cheaper graphics chips than the other models, had no Bluetooth and had a Combo drive. The next configuration up was also 17" and ran at 2.0Ghz. It had an ATI Radeon X1600 graphics card. The 20" configuration rand at 2.16Ghz and had 250Gb of hard drive space. The high-end model was 24" and ran at 2.16Ghz. It had the fast NVIDIA GeForce 7300GT graphics card. It also included a FireWire 800 port. The top three models had SuperDrives, Bluetooth and 1Gb of RAM. All models had an iSight Camera.
History
The new Intel Core2 Duo processor was up to 50% more powerful than the Core Duo. Introducing the new chip across the line, Apple also offered more options than ever before in the iMac line, everything from the budget-friendly low end to the 24" fully loaded model.
Photos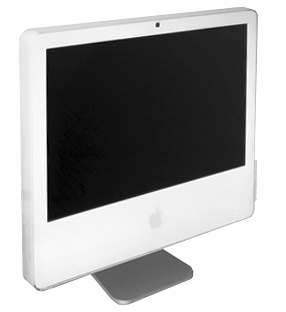 Specifications
Processor: Intel Core 2 Duo (T7400, T7600) ("Merom")
Number of Cores: 2
Processor Speed: 2.16 or 2.33 GHz
Benchmarks: 2.16 GHz: 2862, 2.33 GHz: 3056
Cache: 4 MB shared L2 cache at full processor speed
System Bus: 667 MHz
Hard Drive: 250, 500, or 750 GB 7200-rpm
Media: Slot-loading 8x SuperDrive with 2.4x Dual Layer burn (DVD+R DL/DVD±RW/CD-RW)
Peripherals: Apple Remote, Apple Keyboard, Mighty Mouse
Colors: White
Weight and Dimensions (US): 24.7 lbs., 20.6" H x 22.6" W x 8.1" D
Weight and Dimensions (Metric): 11.2 kg, 52.3 cm H x 57.4 cm W x 20.7 cm D
Original Mac OS: Mac OS X 10.4.7 (8K1123)
Later Mac OS: Mac OS X 10.4.8 (8N1430)
Maximum Mac OS: Latest release of Mac OS X
Hardware Test: AHT 3A113
Firmware: Intel Extensible Firmware Interface (EFI)
Firmware Update: iMac EFI Firmware Update 1.1
Firmware Update URL: http://www.apple.com/support/downloads/imacefifirmwareupdate11.html
Logicboard RAM: None
Maximum RAM: 3.0 GB (4.0 GB can be installed, only 3.0 GB will be addressed)
Type of RAM Slots: 2 - 200-pin PC2-5300 (667MHz) DDR2 SO-DIMM
Minimum RAM Speed:—
Interleaving Support: Yes
Graphics Card: NVIDIA GeForce 7300 GT or GeForce 7600 GT
ATI Card Model:—
Graphics Connection: Mobile Express Module (MXM)
Graphics Memory: 128 (7300 GT) or 256 MB (7600 GT) GDDR3
Built-in Display: 24-inch LCD 400 cd/m 700:1 contrast ratio
Resolutions: 16:10 aspect ratio: 1920 x 1200, 1600 x 1000, 1344 x 840, 1280 x 800, 1024 x 640, 800 x 500, 4:3 aspect ratio: 1600 x 1200, 1344 x 1008, 1280 x 960, 1024 x 768, 960 x 600, 800 x 600, 640 x 480
Display Modes: Dual display extended and video mirroring
Display Connection: 1 - Mini-DVI (DVI, VGA, Composite and S-video with adapter)
Video Camera: Built-in iSight
Expansion Slots: None
Hard Drive Bus: 1.5 Gbps Serial ATA (SATA)
Large Drive Support: Yes (128 GB or larger per drive)
Optical Drive Bus: Ultra ATA/100 (operates at UATA/33)
Backup Battery:—
Max Watts: 220 W
Line Voltage: 100-240V AC
AirPort: Built-in AirPort Extreme card (802.11a/b/g/n)
Bluetooth: Built-in Bluetooth 2.0 + EDR
Ethernet: 10/100/1000BASE-T (RJ-45) (support for jumbo frames)
Modem: Optional Apple USB Modem (MA034Z/A)
USB: 3 - 480 MBit/s
FireWire: 1 - 400 MBit/s, 1 - 800 MBit/s (15W total power)
Audio In: 1 - 3.5-mm analog/optical combo input jack, Built-in microphone
Audio Out: 1 - 3.5-mm analog/optical combo output jack, Built-in speakers
Timeline
Introduced in September 2006, the iMac (Late 2006) was replaced by new models in August 2007.
Videos