iBook
Introduced: July 1999
Terminated: September 2000
Description
Apple's new line of notebook computers, the iBook, ran a G3 processor at 300 or 366Mhz. It had a 3.2 or 6Gb hard drive and a tray-loading CD-ROM. It was available in Blueberry and Tangerine colored translucent plastic and featured a clamshell style design with a handle. The 288 or 320Mb of RAM was expandable to 544 or 576Mb using the SO-DIMM slots. It had an ATI Rage Mobility graphics card and an AirPort 802.11b card was optional. It had a 12.1" LCD with an optimum resolution of 800 x 600. There was no audio input and a single audio output. It had a built-in speaker.
History
The public anticipation for the iBook prior to its release was arguably the highest in Apple's history. Following on the success of the iMac, the iBook was aimed at a low-end market. It came in a modern, appealing case that maximized the brand recognition begun with the iMac.
In addition, it contained some excellent features. It had excellent graphics capabilities and utilized Unified Motherboard Architecture (UMA). It was the first Mac to use this new technology that would enable Apple to standardize many of the motherboard components across their various lines. The option of an AirPort card was one of the most exciting features, allowing for true wireless networking.
Priced at $1,599, the iBook was $900 less than the cheapest PowerBook, the iBook brought mobile Macintosh computing to a new market.
Photos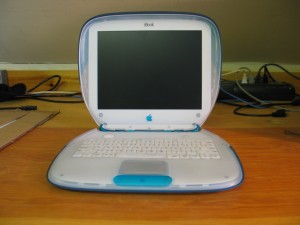 Specifications
Processor Speed: 300 or 366 MHz
Cache: 64 KB L1, 512 k backside (1:2) L2
System Bus: 66 MHz
Hard Drive: 3.2 or 6 GB
Media: Tray-loading CD-ROM
Trackpad: Solid-state trackpad supports tap, double-tap and drag
Keyboard: Full size (76 (U.S.) or 77 (ISO) keys incl. 12 function, 4 arrow, embedded keypad)
Colors: Blueberry, Tangerine, and Graphite (6 GB model)
Weight and Dimensions (US): 6.7 lbs., 11.6" H x 13.5" W x 1.8" D
Weight and Dimensions (Metric): 3.04 kg, 29.5 cm H x 34.3 cm W x 4.6 cm D
Original Mac OS: Mac OS 8.6 (Mac OS ROM 2.3.1)
Later Mac OS:—
Maximum Mac OS: Mac OS X 10.3.9
Hardware Test: Not Supported
Firmware: Open Firmware
Firmware Update: iBook Firmware Update 4.1.7
Firmware Update URL: http://docs.info.apple.com/article.html?artnum=75128
Logicboard RAM: 32 or 64 MB
Maximum RAM: 544 or 576 MB (Actual) 288 or 320 MB (Apple)
Type of RAM Slots: 1 - PC66 3.3V 144-pin SO-DIMM
Minimum RAM Speed: 10 ns
Interleaving Support: No
Graphics Card: ATI Rage Mobility
ATI Card Model: ATY,RageMobilityL
Graphics Connection: 2x AGP
Graphics Memory: 4 MB
Built-in Display: 12.1-inch
Resolutions: 800 x 600 (Optimum), 640 x 480
Display Modes:—
Display Connection: None
Expansion Slots: None
Hard Drive Bus: ATA-2
Motion Sensor: None
Backup Battery: None
Power Adapter: Apple 45 Watt Power Adapter (M7332)
System Battery: 45 Wh Lithium Ion (M7426)
Battery Life:—
Max Watts: 45 W
Line Voltage: 100-240V AC
AirPort: Optional AirPort card (802.11b)
Bluetooth: None
Ethernet: 10/100BASE-T (RJ-45)
Modem: 56K v.90
USB: 1 - 12 MBit/s
FireWire: None
Security Slot: None
Audio In: None
Audio Out: 1 - 3.5-mm analog output jack, Built-in speaker (16-bit 44.1 kHz sample rate)
Timeline
Introduced in July 1999, the iBook had a minor upgrade in February of 2000 with an increase in the motherboard RAM and an increase in the hard drive size. It was replaced in September 2000 with a new model.
Videos