ColorSync 20-inch
Introduced: November 1997
Terminated: January 1999
Description
The ColorSync 20-inch display was a Trinitron CRT with a 19" viewable screen capable of displaying 16.7 million colors at any resolution.
History
Coinciding with the release of the Power Macintosh G3 line, Apple released new displays to replace the earlier AppleVision Display. The ColorSync 20-inch replaced the AppleVision 850. The ColorSync technology would become the industry standard for color management and hold that position for long after the original ColorSync displays were discontinued.
Photos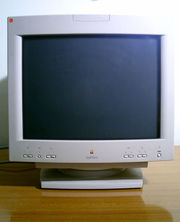 Specifications
Type: CRT (Trinitron)
Size: 20"
Viewable Area: 19.0"
Connection: DB-15
System Requirements: System 7.1 or later
Integrated Audio: None
Ports: 2 - ADB
Power: 150 W
Mounting:—
Weight and Dimensions (US): 67.4 lbs., 18.7" H x 19.1" W x 20.2" D
Weight and Dimensions (Metric): 30.6 kg, 47.5 cm H x 48.5 cm W x 51.3 cm D
Colors: 16.7 million
Viewing angle:—
Brightness:—
Contrast ratio:—
Response time:—
Pixel pitch: 0.26 mm stripe, 0.25 mm grille
DPI:—
Resolutions: 640 x 480, 800 x 600, 832 x 624, 1024 x 768, 1152 x 870, 1280 x 1024, and 1600 x 1200
Timeline
Introduced in November 1997 along with the Power Macintosh G3 line, the ColorSync 20-inch display was discontinued in January of 1999.
Videos