Color StyleWriter 4500
Introduced: June 1997
Terminated: 1998
Description
The Color StyleWriter 4500 was an ink jet printer that used the QuickDraw language. Communication was via LocalTalk or a serial port. It could print 5 pages a minute in black and white and 1.7 pages a minute in color with a DPI of 600.
History
The Color StyleWriter 4500 was one of three printers licensed by Apple but produced by Hewlett Packard. These printers were based on the popular Macintosh compatible DeskJet printers.
Photos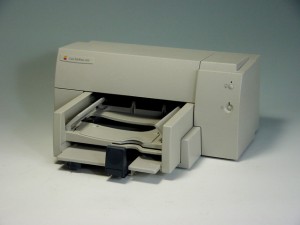 Specifications
Type: Thermal ink-jet
Processor: None
Processor Speed:—
Language: QuickDraw
Colors: 4
Connection: LocalTalk, Serial (RS-422-A)
Pages Per Minute: 5 black and white, 1.7 color
DPI: 600
Cartridge: Black: Apple M5693G/a or HP 51629A, Color: Apple M5694G/A or HP 51649A, Color PhotGrade: Apple M5692G/A or HP C1816A
Power: 12 W
Weight and Dimensions (US): 11.7 lbs., 7.8" H x 17.2" W x 15.9" D
Weight and Dimensions (Metric): 5.3 kg, 19.8 cm H x 43.7 cm W x 40.4 cm D
Timeline
Introduced in June of 1997, the Color StyleWriter 4500 was discontinued in 1998.
Videos