Color StyleWriter 1500
Introduced: February 1996
Terminated: N/A
Description
The Color StyleWriter 1500 was an ink-jet printer using the QuickDraw interpreter. Communication options include a serial port, an optional LocalTalk or Ethernet. It could print 3 black and white pages a minute or a color page in three minutes with a resolution of 720 x 360.
History
The Color StyleWriter 1500 was budget-conscious printing option for home and business users. While the speed left something to be desired, it was very affordable by comparison to other printers with similar specifications. It was similar in design and quality to the Canon BJC 250 printer.
Photos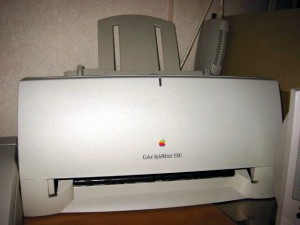 Specifications
Type: Thermal ink-jet
Processor: None
Processor Speed:—
Language: QuickDraw
Colors: 4
Connection: Serial, Optional LocalTalk or Ethernet
Pages Per Minute: 3 black and white, 0.3 color
DPI: 720 x 360
Cartridge:—
Power: 22.6 W
Weight and Dimensions (US): 5.5 lbs., 6.9" H x 13.7" W x 8.5" D
Weight and Dimensions (Metric): 2.5 kg, 17.5 cm H x 34.8 cm W x 21.6 cm D
Timeline
The Color StyleWriter 1500 was sold in 1996.
Timeline
Videos