Apple TV
Introduced: January 2007
Terminated: n/a
Description
The Apple TV has a hard drive with 40 or 160Gb of space. It has one HDMI port, three component video ports, one optical audio and two analog audio ports. It has an infrared port for use with the Apple Remote.
History
The Apple TV is a new type of device from Apple that streams digital content from a Mac OS X or Windows computer, via iTunes, to a widescreen high definition TV. It sells for $299.
Photos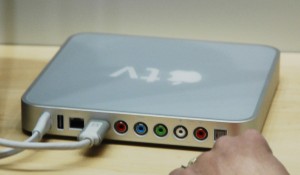 Specifications
Processor: Intel Pentium M
Processor Speed: 1.0 GHz
System Bus:—
Capacity: 40 or 160 GB
Memory: 256 MB 400 MHz DDR2 SDRAM
Graphics Card: NVIDIA GeForce Go 7300
Graphics Memory: 64 MB
TV compatibility: Enhanced-definition or high-definition widescreen TVs capable of 1080i 60/50Hz, 720p 60/50Hz, 576p 50Hz (PAL format), or 480p 60Hz
Weight and Dimensions (US): 2.4 lbs., 1.1 H x 7.7 W x 7.7 D inches
Weight and Dimensions (Metric): 1.09 kg., 28 H x 197 W x 197 D mm
Audio Formats: AAC (16 to 320 Kbps); protected AAC (from iTunes Store); MP3 (16 to 320 Kbps); MP3 VBR; Apple Lossless; AIFF; WAV
Photo Formats: JPEG, BMP, GIF, TIFF, PNG
Video Formats: H.264 and protected H.264 (from iTunes Store): 640 by 480, 30 fps, LC version of Baseline Profile; 320 by 240, 30 fps, Baseline profile up to Level 1.3; 1280 by 720, 24 fps, Progressive Main Profile. MPEG-4: 640 by 480, 30 fps, Simple Profile
Audio/video: 1 - HDMI, 3 - Component video, 1- Optical audio, and 2 - Analog RCA audio
Ethernet: 1 - 10/100BASE-T
Infrared: 1 - For Apple Remote only
Power: 48-watt universal power supply
Wireless: draft 802.11n
USB: 1 - 480 MBit/s (service and diagnostic use)
Timeline
The Apple TV was introduced in January 2007 at the Macworld Expo.
Videos