Apple QuickTake 150
Introduced: May 1995
Terminated: 1996
Description
The Apple QuickTake 150 offered several upgrades over the previous model. A major improvement was the different image formats available: TIFF, BMP, PCX, JPEG, and Quicktake. The other major difference was the ability to work with Microsoft Windows via a connection kit.
History
While the increased options for image formats and the ability to transfer images to a PC were noteworthy improvements, the Apple QuickTake 150 still did not attract much attention from consumers.
Photos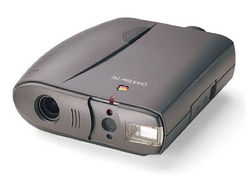 Specifications
Image: 24-bit
Resolution: Up to 640 x 480 pixels
Image Formats: TIFF, BMP, PCX, JPEG, and QuickTake
Optics: Fixed-focus lens (with flash)
Lens Focal Length: 8 mm
Audio: None
Range: 4 feet to infinity
Memory: 1 MB Flash EPROM
Shutter Speed: 1/30 to 1/175 of a second
Weight and Dimensions (US): 1.0 lbs., 2.2" H x 5.3" W x 6.1" D
Weight and Dimensions (Metric): 454 g, 5.6 cm H x 13.4 cm W x 15.5 cm D
Ports: RS-422 serial (Mac), RS-232C serial (PC)
System Requirements: Macintosh with a 68020 or faster and System 7.1 or later. PC-compatible with an 80386 or later processor and Windows version 3.1, 3.1.1 for WorkGroups, or Windows NT 3.5, MS-DOS 3.3 or later.
Power: 120 image takes with 3 rechargeable AA NiCd batteries Supports three 1.5 AA, R6P, LR-6 or SUM-3 NiCad or lithium batteries (1.5 V Alkaline batteries are NOT compatible with this model)
Timeline
Introduced in May of 1995, the Apple QuickTake 150 was discontinued in 1996 when it was replaced by a new model.
Videos