Apple QuickTake 100
Introduced: January 1994
Terminated: 1995
Description
A digital camera from Apple, the Apple QuickTake 100 could store eight photos at its 640 x 480 resolution and 32 photos at 320 x 240. The images were available in PICT or QuickTake formats and were 24-bit. The lens was 8 MM and there was 1MB of Flash EPROM memory. The Apple QuickTake 100 had a built in flash, but no focusing or zooming abilities.
History
One of the first digital cameras for consumers, the Apple QuickTake 100 took photos that could only be viewed on Macintosh computers. Though it was easy to use, consumer interest in digital photography was low, as were sales.
Photos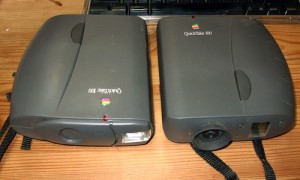 Specifications
Image: 24-bit
Resolution: Up to 640 x 480 pixels
Image Formats: TIFF, BMP, PCX, JPEG, and QuickTake
Optics: Fixed-focus lens (with flash)
Lens Focal Length: 8 mm
Audio: None
Range: 4 feet to infinity
Memory: 1 MB Flash EPROM
Shutter Speed: 1/30 to 1/175 of a second
Weight and Dimensions (US): 1.0 lbs., 2.2" H x 5.3" W x 6.1" D
Weight and Dimensions (Metric): 454 g, 5.6 cm H x 13.4 cm W x 15.5 cm D
Ports: RS-422 serial (Mac), RS-232C serial (PC)
System Requirements: Macintosh with a 68020 or faster and System 7.1 or later. PC-compatible with an 80386 or later processor and Windows version 3.1, 3.1.1 for WorkGroups, or Windows NT 3.5, MS-DOS 3.3 or later.
Power: 120 image takes with 3 rechargeable AA NiCd batteries Supports three 1.5 AA, R6P, LR-6 or SUM-3 NiCad or lithium batteries (1.5 V Alkaline batteries are NOT compatible with this model)
Timeline
The Apple QuickTake 100 was introduced in January of 1994 and discontinued in 1995 with the introduction of new QuickTake models.
Videos