Apple III+
Introduced: 1983
Terminated: 1985
Description
The Apple III+, also written as Apple ///+, was released to replace the original Apple III. The hardware problems were fixed and it contained an increased 256kb. It also contained a built-in clock, video interlacing and a re-styled keyboard.
History
The new release of Apple's first business-oriented computer failed to move past the problems associated with the Apple III. Also instrumental to its failure was the fact that IBM had released its first 16 bit PC the year after the Apple III was released. This meant a number of inexpensive clones were now available and the business market was favoring IBM. Steve Wozniak has said the failure of the Apple III line was based on the fact that it was created by the marketing department rather than the engineering department which had been responsible for Apple's other products.
Photos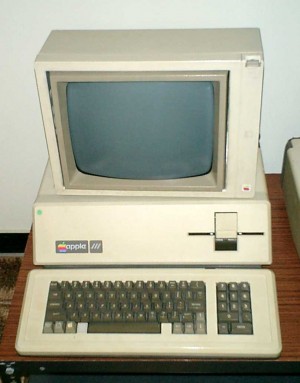 Specifications
CPU
CPU: SynerTek 6502A
CPU Speed: 2 MHz
FPU: none
Bus Speed: 2 MHz
Data Path: 8 bit
ROM: 4 kB
Onboard RAM: 128 kB (256 kB in revised and IIIplus)
Maximum RAM: 256 kB
Expansion Slots: 4 proprietary (compatible w/ Apple II)
Video
Max Resolution: 80x24 text, 1 bit (B&W) 590x192
Storage
Floppy Drive: built-in Shugart 143 kB 5.25"
Input/Output
Serial: optional expansion card
Speaker: mono
Miscellaneous
Codename: Sara
Timeline
After a short lived release from 1983 to 1985, Apple discontinued the III line. The Apple III+ sold only 65,000 units total.
Videos