Apple IIe
Introduced: January 1983
Terminated: March 1993
Description
With a 6502 processor, the Apple IIe (also written as Apple ][e or Apple //e) could run at speeds of up to 1 Mhz. It was sold with 64 K of RAM and 32 K of ROM. The addition of a complete ASCII character set and the capability of using both upper and lowercase letters represented a major improvement over the Apple II+. The keyboard also contained four directional keys and delete and tab editing keys, two Apple modifying keys and a reset key in a location where it could not be pressed by accident. The language card was now built in.
History
Apple had planned to end the II line after the Apple II+, however the failure of the Apple III line led them to introduce the IIe. The "e" stood for "enhanced." One of the most successful computers in Apple's history, the Apple IIe benefited from lower production costs. Reliability was improved and fewer chips were needed, making the motherboard cleaner and cooler running. Widely used in schools, the Apple IIe was also the longest produced Apple product, remaining in production for eleven years. A combination of good features and relatively easy use made the Apple IIe very attractive to first time computer buyers.
Photos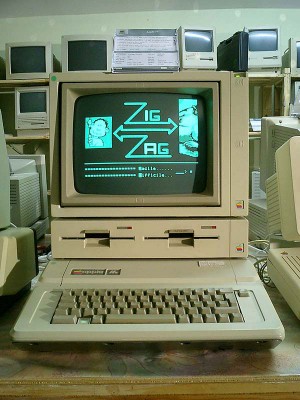 Specifications
Product Specifications
BUILT IN LANGUAGE
Basic
KEYBOARD
Full stroke 52 key with cursor keys
CPU
MOS 65c02
SPEED 1.02 MHz
RAM 64 KB
ROM 16 KB
TEXT MODES
40 x 24 / 80 x 24 (with 80 columns card)
GRAPHIC MODES
40 x 40-48 (16 col), 280 x 160-192 (6 col), 560 x 160-192 (2 col)
COLORS
16 maximum
SOUND
One channel - Built-in speaker
SIZE / WEIGHT
39.4 (W) x 45.7 (D) x 11.4 (H)
I/O PORTS
Monitor, Internal Slots (6), Memory slot, Tape, Joystick
BUILT IN MEDIA
None
OS
DOS 3.3 or ProDOS
POWER SUPPLY
Built-in switching power supply unit
PERIPHERALS
Lots of expansion cards and peripherals
Timeline
The Apple IIe was produced from 1983 to 1993 with relatively few changes.
Videos