Apple I
Introduced: April 1976
Terminated: 1977
Description
Arguably the first personal computer sold already assembled rather than as a kit, the Apple I had a circuit board with about 30 chips. In order to have a functional computer, users still needed to have a case, power supply, display and keyboard.
The Apple I was distinctive from other personal computers of the time in that it had built-in computer terminal technology that allowed it to be used easily with a display and keyboard. Most other kit-based computers of the time used an Intel 8080 chip while the Apple I used a MOStek 6502 chip.
History
The very first product created by Apple was the Apple I. Steve Wozniak made it for his personal use, but his friend Steve Jobs had the idea of selling it. It had been developed over a number of years, and then was produced in printed circuit-board form for commercial sale. The initial price of $666.66 was used because Steve Wozniak liked repeating digits.
Photos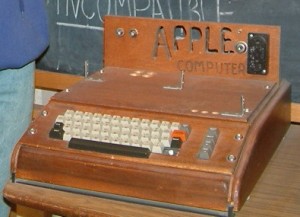 Specifications
Manufacturer Apple Computer
Type Personal computer
Casing None
Production July, 1976
Discontinued March, 1977
CPU MOS 6502 @ 1 MHz
RAM 4 KiB standard
expandable to 8 KiB
or 48 KiB using expansion cards
Graphics 40_24 characters
Hardware-implemented scrolling
Timeline
The Apple I was first demonstrated in April 1976. It went on sale in July of the same year. It was discontinued in March 1977 with the introduction of the Apple II.
Videos