Apple eMate 300
Introduced: March 1997
Terminated: February 1998
Description
The Apple eMate 300 was a PDA based on the Newton. It ran an ARM 710a RISC processor at 25Mhz and had 8Mb of ROM and 3Mb of RAM. It had a 480 x 320 grayscale screen that was backlight and the folding clamshell style case contained a keyboard. A stylus could also be used the same way it was used on a Newton.
History
The Apple eMate was a strange hybrid. Although it ran the Newton operating system, it looked more like a PowerBook. The durable plastic translucent case and rounded clamshell design, initially intended for heavy use in the classroom, would have great impact on Apple's design future. It even had a small handle that would be emulated in later designs.
The eMate 300 was sold exclusively to educational markets.
Photos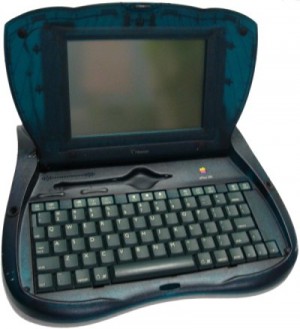 Specifications
Processor: ARM 710a RISC
Processor Speed: 25 MHz
Memory: 8 MB ROM, 3 MB RAM
Display: 480 x 320 16-bit greyscale w/ backlight
System Software: Newton OS 2.1 (English)
Weight and Dimensions (US): 4 lbs., 12.0" L x 11.4" W x 2.1" H
Weight and Dimensions (Metric): 1800g, 305mm x 290mm x 53mm
Ports: IrDA Infrared port, headphone port, Interconnect Port; LocalTalk, Audio I/O, Autodock, Phone I/O
Memory Card: 1 PCMCIA-Slot I/II/III
Power: NiMH-rechargeable battery pack or External power supply
Operating Temperature: 0 to 40 deg. C (32 to 104 deg. F)
Storage Temperature: -20 to 60 deg. C
Transport Temperature: -20 to 70 deg. C (-40 to 149 deg. F)
Relative Humidity: 5 - 95%, non-condensing
Altitude (US): 10,000 feet
Altitude (Metric): 3,000 m
Timeline
Introduced in March of 1997, the Apple eMate 300 was discontinued when the Newton line (and its operating system) ended in February 1998.
Videos