Apple Color Plus
Introduced: October 1993
Terminated: August 1995
Description
The Apple Color Plus had a 14" screen with an 11.9" viewable area. The screen was a Shadow Mask CRT, capable of displaying 32,000. The screen had a resolution of 640 x 480 and a DPI of 68.
History
The Apple Color Plus display was released along with the Quadra 605, the Quadra 650, the Quadra 660AV, the LC 475, the Performa 475 and the Performa 476.
Photos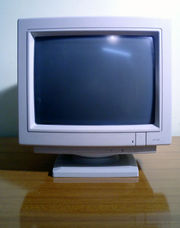 Specifications
Type: Shadow Mask CRT
Size: 14"
Viewable Area: 11.9"
Connection: DB-15
System Requirements: Macintosh computer
Integrated Audio: None
Ports:—
Power: 70 W
Mounting:—
Weight and Dimensions (US): 25.3 lbs., 12.9" H x 14.5" W x 15.2" D
Weight and Dimensions (Metric): 11.5 kg, 32.8 cm H x 36.8 cm W x 38.6 cm D
Colors: 32,000
Viewing angle:—
Brightness:—
Contrast ratio:—
Response time:—
Pixel pitch:—
DPI: 68
Resolutions: 640 x 480 @ 67 Hz
Timeline
Released in October of 1993 along with a number of new Macintosh computers, the Apple Color Plus was discontinued in August 1995.
Videos