AirPort Extreme Base Station
Introduced: January 2003
Terminated: January 2007
Description
The AirPort Extreme Base Station used the Wi-Fi (802.11b/g) technology to run at a frequency of 2.4Ghz with a data rate of 54Mbps. It had a range of 150 feet and a capacity of 50 users.
History
The AirPort Extreme Base Station was released at the Macworld Expo. It had new higher data transfer rates and supported wireless printing through USB. The compatible cards were released at the same time.
A model released concurrently included a modem.
Photos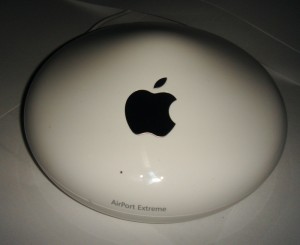 Specifications
Wireless Data Rate: Up to 54 Mbps
Range: 150 ft. (11 Mbps), 50 ft. (54 Mbps)
Compatibility: Wi-Fi (802.11b/g)
Frequency: 2.4 GHz
Radio output power: 15 dBm (nominal)
Supported protocols: NAT, DHCP, FTP, PPPoE, VPN Passthrough (IPSec, PPTP and L2TP), QuickTime Streaming, DNS Proxy, SNMP
Security: WPA, WPA2, and WEP (40-bit or 128-bit encryption)
Capacity: 50 users
Power over Ethernet: No
Ports: 2 - RJ-45, 1 - USB
Weight and Dimensions (US): 1.65 lbs., 6.9" D x 3.2" H
Weight and Dimensions (Metric): 565 g, 175 mm D x 80 mm H
Timeline
Introduced in January 2003, the AirPort Extreme Base Station was discontinued in January 2007.
Videos