AirPort Extreme (802.11n)
Introduced: January 2007
Terminated: n/a
Description
The AirPort Extreme (802.11n) was backwards compatible with 802.11b and 802.11g cards. It also added two additional LAN ports. Support of external drives through AirPort Disk was a major new improvement to the latest AirPort Extreme, now housed in a new low square box.
History
The USB port could connect to external drives and the AirPort Extreme could then be used as a file server. This feature was compatible with either the Mac OS or Windows. The USB port could be used to connect printers wirelessly to a network as well.
Photos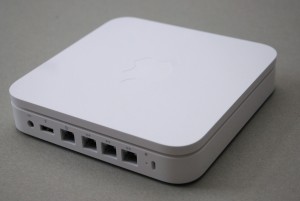 Specifications
Wireless Data Rate: 200 - 540 Mbps
Range: 165 ft.
Compatibility: Wi-Fi (802.11a/b/g and draft 802.11n)
Frequency: 2.4 GHz or 5 GHz
Radio output power: 20 dBm (nominal)
Supported protocols: NAT, DHCP, PPPoE, VPN Passthrough (IPSec, PPTP, and L2TP), DNS Proxy, SNMP
Security: WPA, WPA2, and WEP (configurable for 40-bit or 128-bit)
Capacity: 50 users
Power over Ethernet: No
Ports: 4 - RJ-45 and 1 - USB
Weight and Dimensions (US): 1.66 lbs., 1.3" x 6.5" x 6.5"
Weight and Dimensions (Metric): 753 g, 34 mm x 165 mm x 165 mm
Timeline
The AirPort Extreme (802.11n) was introduced in January 2007.
Videos