AirPort Base Station (Graphite)
Introduced: July 1999
Terminated: November 2001
Description
Apple's first wireless router was based on Wi-Fi 802.11b technology. It could transfer up to 11Mb per second and had a range of 150 feet. It operated at a frequency of 2.4Ghz and supported a number of different protocols. It had WEP 40-bit encryption security. It could handle up to ten users a time. It had a port for Ethernet and an internal 56K modem.
History
Released alongside the new iBooks, the Airport Base Station created a truly wireless workstation. It acted as both a wireless router and Ethernet hub in addition to acting as a modem. Because of this, it was eliminated the need for multiple devices in a workspace with both desktop and portable computers.
Photos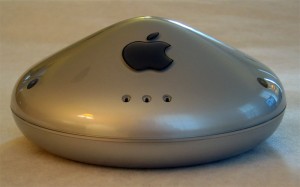 Specifications
Wireless Data Rate: Up to 11 Mbps
Range: 150 ft. (50m)
Compatibility: Wi-Fi (802.11b)
Frequency: 2.4 GHz
Radio output power: 15 dBm (nominal)
Supported protocols: AppleTalk, TCP/IP, NAT, DHCP, UDP, FTP, PPPoE, L2TP, DNS, IPSec/VPN Passthrough, SNMP, Telnet
Security: WEP (40-bit encryption)
Capacity: 10 users
Power over Ethernet: No
Ports: 1 - RJ-45, 1 - RJ-11 for built-in 56k modem
Weight and Dimensions (US): 1.65 lbs., 6.9" D x 3.2" H
Weight and Dimensions (Metric): 565 g, 175 mm D x 80 mm H
Timeline
Introduced in July 1999, the Airport Base Station (Graphite) was discontinued in November 2001 when the Airport Extreme technology was released.
Videos