ArtRage - Outrageously good
Those of us who are old enough may remember paint programs from the 80's. MacPaint for instance, originally in black and white only. The artists among us (which excludes me) could still make it sing and dance, and we were impressed and excited. And then came color. All 16 of them! How times have changed, but I'm still impressed with today's paint programs, although they've advanced beyond recognition of those early models.
One such program that deserves special mention is Ambient Design's ArtRage. I'd tell you what makes it special now, but you wouldn't read the rest of the article - you'd be charging off to Ambient's website to buy a copy.
Background
Ambient Design was established by several former staff members of MetaCreations - famous for Painter (now owned by Corel) and an assortment of plug-ins, filters, and applications under the well known "Kai's" moniker, such as Kai's Power Tools (also now owned by Corel).
MetaCreations had a reputation for innovative software and innovative interfaces, and Ambient's software continues that.
Ambient Design is based just across the Tasman Sea from me, in the spectacular New Zealand countryside, but only 25 minutes from Auckland. And as an Aussie I'm excited to see another great application coming out of our part of the world.
As well as commercial software development, Ambient Design also contracts its services, providing complete engineering services from design to implementation.
Ambient is proof yet again, that parallel development on both the Macintosh and Windows platforms is possible, and in fact has developed a tool, Goblin, "a set of tools and an application architecture that allows you to rapidly develop good looking, fast, cross platform applications without having to resort to OS specific coding."
Well, hopefully you are still reading and didn't skip ahead, see how good ArtRage is and zip off to Ambient and buy it (well not yet, anyway). So if you're still with me, and aren't off playing with your own copy of ArtRage, let me tell you about it.
What is ArtRage?
ArtRage is a natural media painting program and although not alone in the market - Painter ($429 US) and Alias's Sketchbook Pro ($179) being two others - it has much in common with them, but ArtRage has aspects that makes it unique.
Ambient's Creative Director, Matt Fox-Wilson says:
Basically, ArtRage is a different kind of application to things like Sketchbook and Painter. There's definitely some crossover there, particularly when it comes to version 2, but that's not the drive of the product. The basic goal of the product is to give people instant and easy to use access to realistic painting. You don't need to learn how it works, you don't even need to create a new document when you open it. It gives you a sheet of paper and lets you get right down to painting.

...it's a different product that stands alone and does something the other apps don't, and for people who want a more professional approach the price is low enough that it's not hard to justify getting it alongside products that do all of the other things they want.


The other big difference is price. ArtRage is only $19.95 US. But don't let the price fool you, ArtRage is seriously good. The software industry has conditioned us to expect to pay a premium for quality software. You'd normally find an application like ArtRage would cost at least $60. Fortunately the guys at Ambient recognise that software can be priced reasonably without compromising quality.
Around the canvas
The first thing you notice about ArtRage is the Ambient guys care about design. The second is they have achieved their goal - ArtRage does feel realistic to use. Even when using a mouse. When you see and "feel" the paint mixing on your canvas, you'll know what I mean. If you want to use colors from the canvas, you can even toggle "Auto Clean" option off which means you manually have to wash your brush in a virtual water glass.
Tools
ArtRage is a painting program so it doesn't include any drawing tools such as lines, rectangles, circles or text. The tools it does have are: Oil Paint; Paint Tube; Paint Roller; Palette Knife; Airbrush; Glitter; Pencils; Felt Pens; Crayons; Chalks; Eraser; and Color Sampler.
Palettes
ArtRage provides six palettes which are pinned around the border of the canvas. These are: Tool settings; Tool picker; Layer and Canvas control (which also displays a thumbnail of the layer you're working on); Color picker; Color palette (where you can store favorite colors); and the Menu bar, which on OS X doesn't actually contain the menu, just manual zoom, undo and window controls. These palettes are very clever too - they hide when you paint into them. You can also hide them by pressing Tab or Enter.
Reference images
Reference images can either be "pinned" to the canvas for copying or underlaid for tracing.
ArtRage in use
I did intend to give the run down but they say a picture paints a thousand words, and in this case, I believe that to be very true. The painting below was done using the trace facility of ArtRage. If I had tried to do it without that guide, it would have looked like a stick figure steam train, or a big bluey-black splodge - and taken me three times longer.
Here's the original image: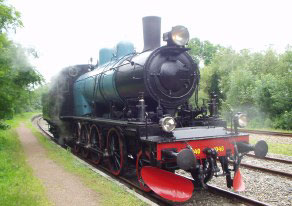 Many thanks to Professor Stephen Mann (himself a graphics expert) for allowing me to use this image.
And here's my effort with it: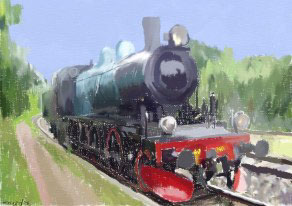 I know there's lots of mistakes in it, but I wish I could convey to you somehow just how bad I am at painting, so you too could appreciate just how big a leap it is for me. The original image is 1024x768 and took me about four sessions and about five hours. And a tip: those little white spots you see are the canvas showing through (I like them, they add character), but you can lessen them by duplicating the layer a couple of times - which can be easier than fiddling around trying to paint them away.
Tracing
Two of the biggest stumbling blocks anyone trying to draw or paint encounters are, getting the picture right, and choosing the colors to use. The tracing feature of ArtRage overcomes both those hurdles. Firstly it means you can see the picture below, so you get things in the right place, and secondly and most importantly, Art Rage gives you the option to use the image's colors when painting.
ArtRage lets you adjust the opacity of the tracing image and scale it.
Here's a screenshot of tracing in action: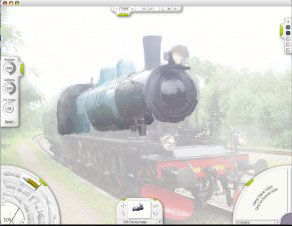 The Canvas
One of my favorite features of ArtRage is that you can change the canvas after you've started painting on it - even changing its opacity. Try doing that with real paint! Canvases can be of various types (including foil); opacity; grain and roughness.
The whole canvas can be rotated, zoomed and dragged around. All of these functions work by click and drag, even zooming. I found this much more intuitive than the magnify glass click for incremental zooming as found in applications like Photoshop. I hope it catches on. And what's more, it was fast. This type of zooming is analogous to moving your eye closer to the canvas when painting the non-digital way. A little thing, but it highlights Ambient's commitment to making the experience of using ArtRage as realistic as possible.
The interesting thing is, even after using ArtRage for such a short time, I am now trying to drag documents around in other applications, rather than using scroll bars.
Although I did this steam train with a Wacom graphics tablet, because of the technique I used (painted and then smeared using the palette knife), I would have achieved similar results with a mouse. The testing I did do with a mouse showed that it was still quite easy to use and get realistic looking results.
Shortcomings
There's a Windows version. Just kidding. That's not really a shortcoming because it means if you're a Windows user, when you buy a Mac you'll be able to open all your ArtRage paintings on it.
Real shortcomings? Few that I found. ArtRage could do with controls for how the pressure sensitivity works; tooltips would be useful; control over the shape of the start point and end point of brush strokes. It would be nice too if it listed recent files; to have more than one file open at a time; and had an option to lock layers. And a watercolor brush would be good too.
It also (on my computer), displayed a few oddities - one time undo stopped working; another time all the menus became grayed out; and often I had to click twice on menu items for them to activate. Restarting it fixed these bugs.
Overall
The hardest part of reviewing ArtRage has been writing the review. Each time I got on ArtRage, I just got carried away with it. Have a look at the free version (which has half the tools disabled, but no other restrictions) if you must, but for $20 for the full version, just go buy it.
Balancing the relatively minor shortcomings with the power and realism of ArtRage, I'd have to give it a rating of 9/10