Magic Trackpad: A Mouse Replacement?
Before purchasing new software or hardware I ask myself a few questions: How will this product enhance my productivity as a user? Will it make computing easier? Will it solve computer workflow problems? Does it feel right? Apple's new Magic Trackpad invites answer to these questions and more, but for this user the answers were not immediately clear.
If you have regularly used a trackpad on a laptop and/or the multi-touch features of Apple's mobile devices, Magic Trackpad won't be a foreign device to you. In that sense, there's nothing magic about the Magic Trackpad.

We all accept that a trackpad works well for those devices, but I keep thinking the traditional mouse for desktop computing is more tactile. Moving the cursor with a mouse is faster than with a trackpad. Advanced trackpads can include up to eight buttons useful for activating various keyboard shortcuts. At this time, Magic Trackpad is not supported by third-party plug-ins like SteerMouse, which brings a tremendous boost to computing. For example, it would be useful if users of the Trackpad could customize all four corners of the device. It would be great if you could use different gestures to launch applications or keyboard shortcuts.

Despite these limitations, because I configured my Trackpad to use one-finger tap and dragging, tapping on a file and dragging it across two monitors or from one part of the Finder to other seems smoother and faster. Scrolling up and down web pages feels better using the Magic Trackpad, and activating Exposé and the Application Switcher also seems faster, partly because I've never liked using the keyboard shortcuts to access these features.
I also didn't point out in the video that when you hold down the Control key and perform the two-finger screen zoom action, this enables you to quickly re-size file icons in the finder. Of course you can do this same thing with the zoom slider on the bottom-right of any Finder window, it makes it a little easier for icons on the desktop.
I haven't figured out all the features of the Trackpad, such as the Pinch Open & Close feature. The back of the box illustrates much of what you can do with the Trackpad, but other than that there's very little documentation about using the device.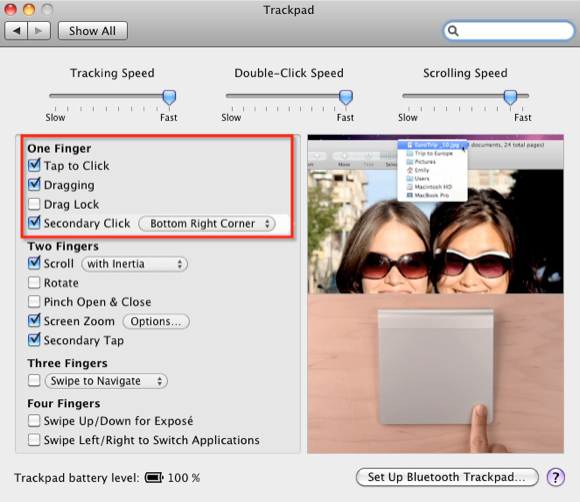 In general, though, there are some very good reasons to try out the Magic Trackpad. After taking Magic Trackpad for a spin right out of the box, I put together a video to demonstrate it in action. If the video doesn't download on this AppleMatters page, you can view it here on YouTube.
However, I want to spend a few weeks with it to see if it will replace my traditional mouse. The verdict's still out. Have any of you tride it and switched?