Wednesday Prediction: The iTunes Store Gets Blown Wide Open
With just two days left until Apple's press event, here's my completely insane theory on Apple's strategy going forward, based on absolutely nothing but the promotional flyer for the event: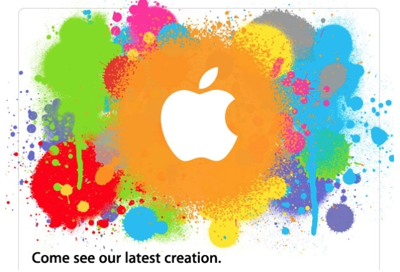 "Come see our latest creation." Why is Apple emphasizing creativity in this announcement? Here's my hypothesis: along with whatever hardware announcements Apple will make, the company will introduce an open content marketplace on the iTunes Store, where any enterprising creative entity (whether they be musicians, authors, publishers or filmmakers) can sell their wares.
Since its introduction in June of 2008, the iTunes App Store has become remarkable for its immense popularity among both developers and consumers. With only a small fee required to join Apple's developer program, thousands of developers have taken advantage of the opportunity to sell their homemade apps on iTunes, and mainstream press outlets love writing articles about how very small businesses and even one-man operations are making real profit through the iTunes Store. Now, forget the fact that the iTunes app review process is a perpetual source of complaint for developers, and that it's a hindrance that's led to some programmers abandoning the platform altogether. The mainstream press coverage is still great PR for Apple, who loves running ads touting how many apps it has in its store. It is important to note that in its ads Apple highlights not just flagship apps from corporations like AOL, Facebook and EA, but those from indie developers as well.
Apple's expected to announce a partnership with some major print media corporations to provide newspapers, magazines and books for its rumored tablet. If this is true, it'll need to open a new section of the iTunes Store to contain that content. This by itself doesn't differentiate Apple from its competitors. Amazon and Barnes & Noble have similar stores for their Kindle and Nook. What would make Wednesday's announcements groundbreaking is to have this new e-book store replicate the grassroots success of the App Store—a place where individual authors and independent publishers could sell their content alongside large corporations. This, along with a color screen and superior user-experience, would help give Apple's new hardware a huge advantage over its competitors, right out the gate.
What's more, if Apple's going to be making this print store open to the public at large, why wouldn't it open the iTunes music and film stores as well? Independent filmmakers and musicians have had a historically difficult time getting their product on iTunes. Usually, they have to partner with a company like SnagFilms or CDBaby to even have a shot. In the wake of the App Store's groundbreaking success among both developers of software and the consumers who buy them, perhaps it would make smart business sense for Apple to open up its marketplace to these different mediums as well. It's the next natural step in what appears to be its current strategy.
Over the past few years, Apple's been lowering prices on the iPhone and iPod touch, making it easier for consumers to afford its products. It's a natural evolution of this strategy for Apple to begin making it easier for artists to sell theirs on Apple's store.