Apple Store Grand Opening or Knoxville Needs Shirts
The east Tennessee area was badly underserved as far as legit Apple stores go, local Apple fans had to travel three hours west or south to hit the closest Genius Bar and that is a long way to go for even the most die hard Apple fan. That all changed when Apple opened up its latest store in West Town Mall.
Expecting the reaction to be tepid, an Apple store opening is something I wouldn't go to if I didn't write for AppleMatters, I made the 9:15 trek to the local mall (normally a place I avoid). Not being sure where the Apple store was located in the maze-like sprawl of this area's premiere cash for goods and services locale, I cruised the parking lot looking for a few folks that had Apple written all over them. Moments later I saw a guy with a Jaguar shirt and a copy of Dune tucked into the back of his pants. Noting the entrance he chose, I parked and followed suit.
I may have not been expecting much, but the mall had much greater expectations: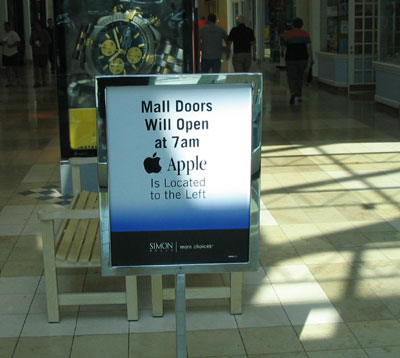 At least the mall was hopeful. I still expected a hundred people tops, this wasn't University of Tennessee football after all. Turns out, unsurprisingly, that Apple knows more about the market than I. When I got in line, my view looked precisely as follows.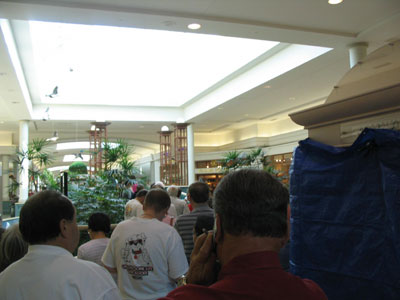 You can see the Apple logo if you squint real hard.
The crowd was decidedly mixed, young and old, geeky and cool, business and casual. Even the best veternerians in Knoxville showed up.


The pros from Emory Animal Hospital put in an appearance

The crowd was also very enthusiastic. The doors would open and Apple employees would come out to, get this, cheers. Which is interesting, I find it somewhat inexplicable that people would actually cheer because some company is selling them stuff. By way of comparison, Victoria's Secret didn't have a line (and I'm pretty sure I know what her secret is by the way, she dresses like a … well, you get the idea).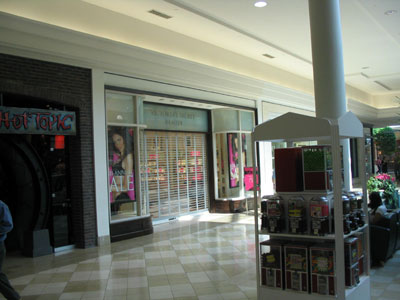 No line here
A few moments passed and a Simon Properties guy videoed the line. Then an Apple guy did the same.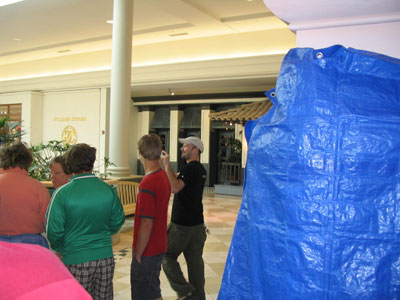 Capturing the moment for Steve Jobs
The employees led another cheer and people started going into the store. I was surprised to find that not all the employees were the young hipster types. There were middle-aged women, some clean cut guys, and surprisingly few piercings. All the Apple folks I dealt with were very courteous and moderately knowledgeable.

On the way out you got the shirt. Judging by the number of shirts left when I checked out I was, roughly, number 500. My expectations pleasantly shattered, I was left to choose one of two inescapable conclusions: either there are a lot of enthusiastic Apple fans around here or people in Knoxville need shirts.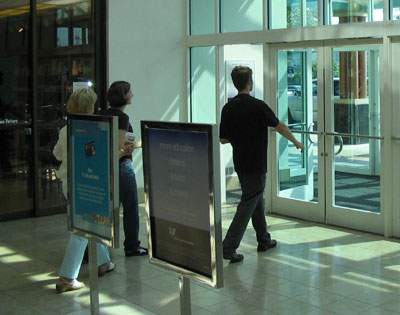 This guy has his shirt on before he left the mall. Was it Apple or the free clothes?